Most new cars will come with a set of stylish alloy wheels, but over time they can start to get dirty and discoloured.
In addition to collecting dirt and debris from the road, they can also collect brake dust, which gets baked onto the wheels as heat is generated. Then you need to restore your wheel and bring it back to luster.
Diamond cut surfaces are shinier and more lustrous than standard alloys, and if you place them side by side, the difference is immediately apparent. The diamond wheel looks highly polished, almost mirror like, and more reflective.
Refurbishing diamond-cut alloy wheels requires specialized equipment, such as a wheel repair machine for the cut face, followed by a few coats of paint to restore the wheel to its original appearance.
AWR904VP is a main advantage product newly designed by Taian Crystal. This product still uses mature designs such as gantry structure, cast iron bed, X/Z axis liner rail, precision ball screw, etc., and adjusted the positions of the Z-axis control motor and main motor, and at the same time, an independent headstock is installed. All of these make the new structure product more satisfy the diversified market demand of different customers.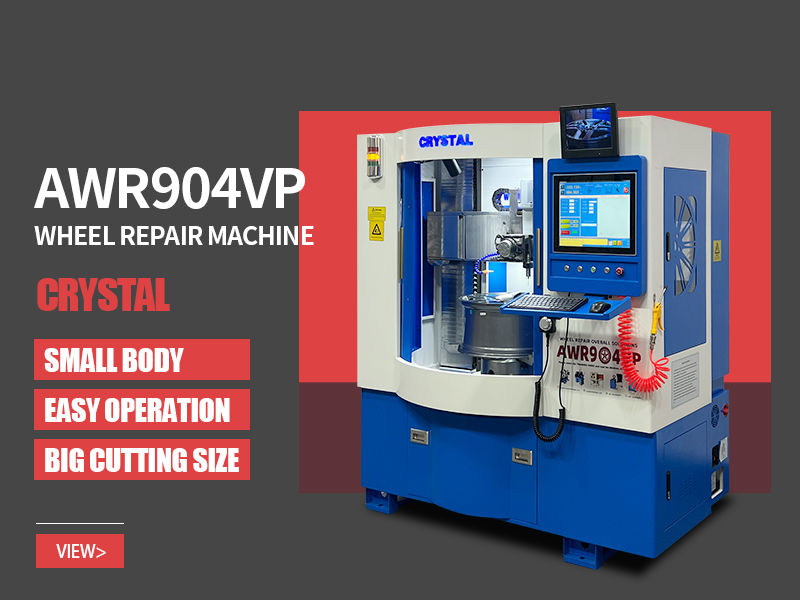 And this machine has a high degree of automation, which is reflected in the following aspects:
a.The control system can independently set parameters, automatic detection, automatic optimization, and automatic cutting for each process, and can achieve different repair effects according to needs.
b.The 4 station electric tool post can realize one-key switching of the ruby probe and diamond cutter.
c.Using automatic lubricating oil pump, automatically lubricate according to the self-set oiling time and frequency, and automatically alarm when there is no oil.
d.The protective door can be changed to automatic doors according to customer needs.
This machine also has many humanized designs.
a.The control system can be operated by touch screen and wireless keyboard and mouse at the same time; The keyboard holder is designed with 3 joints. The operator can freely adjust the height, elevation, angle and rotation of the keyboard according to his height.
b.This machine adopts the arc door design, which makes the internal available space and the volume of machine tool get perfect optimization.
c.Safety door design, safe and convenient.
d.The annular chip removal groove is convenient for aluminum chip collection and cleaning, and convenient for maintenance.
e.Magnetic hand-wheel unit, which can be placed any place of the lathe, easy to carry and use.
We also design different
wheel repair machine
models according to different wheels, if you are interested, you can contact us for more details.