With the development of the wheel repair market, customers have more and more demand for diamond wheel repair CNC machine, and the requirements for CNC are also getting higher and higher. Crystal has always taken the needs of customers and the high quality of products as the foundation of enterprise development. Therefore, according to the customer's request, Crystal's machine has the latest upgrade, Model AWR904VP.
What difference and advantages of AWR904VP. AWR904VP is an upgrade based on AWR902VP. The machine adopts a vertical design, cast iron body, six linear guide rails and gantry structure, which can ensure that the machine is more stable and the cutting effect is better during repair process. The max. cutting size of AWR904VP can reach to 35'', while wheel's thickness reach to 450mm. At the same time, its floor space is only 1.68m2, which is easy to move. AWR904VP is currently the most classic model.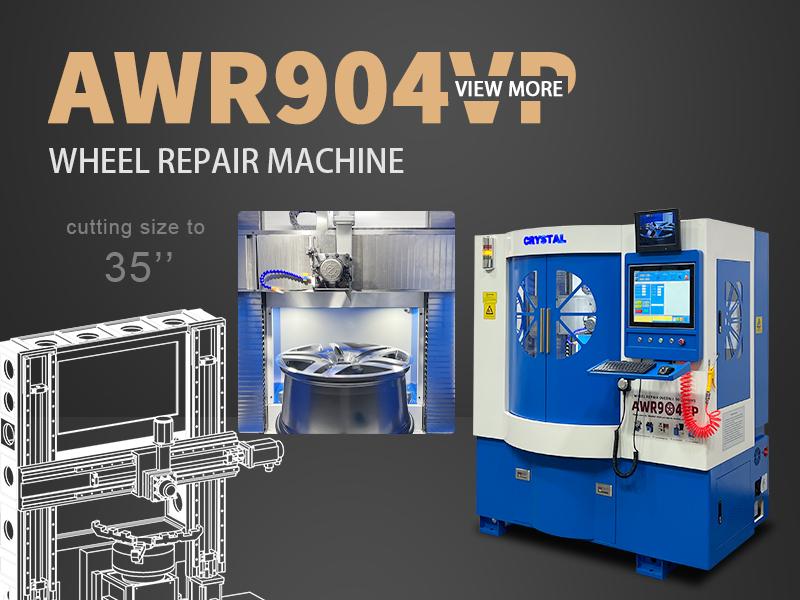 It is vertical design and cast iron gantry structure body. Vertical design makes it easy to load and unload wheels. Reduce the difficulty of operation, quick and labor-saving, especially facing with big and heavy wheels. Cast iron gantry structure body provides stronger stability and rigidity. Machine weight is bigger, higher cost, so during cutting, cutter will not be offset by the force generated by the wheel's rotation. No shaking even running at high speed, the cutting effect can be 100% guaranteed.
Guide rails is very important part for CNC machine. AWR904VP used high precision linear guide rails. 4 linear in Z axis, 2 linear in X. A total of 6 high-quality linear guide rails, higher wear resistance, longer service life, easy to replace. Higher precision improves the cutting effect, faster movement improves working efficiency, less noise and environment friendly.
AWR904VP used automatic tool holder and can finish one-click switching tool holder. 3 cutters + 1 detection system can be clamped. 2 seconds complete tools' exchange, accuracy up to 0.005mm. Its experimental use time more than 100000, saves time and effort, fast and high precision.
Industrial multi-touch panel is also this machine highlight. Insert with optimization software of years of research and development by Crystal. It is easy to use and learn, can connect to WIFI and support remote assistance.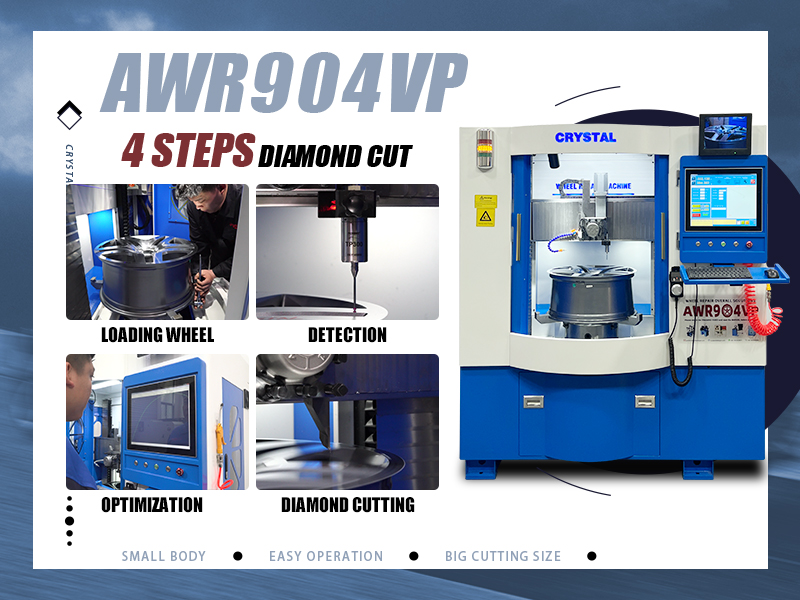 More humanized design for this new model. It is equipped with pneumatic chip blowing device, cleaning gun, multimedia monitoring screen, stainless steel buttons. Lighting upgrade: add 1 spotlight, 2 rear auxiliary light. Ambient lights can be customized: color and words.
If you are interested in CNC wheel repair machine and want to know more, please contact us!