With the continuous development of the auto repair industry, more and more auto repair shops use wheel repair machine to repair and maintain wheels. Human-friendly design makes wheel repair lathe operation more comfortable, easy, fast and satisfy the requirements of users. So, if you want the wheel repair lathe to improve your service level, which humanized design is more attractive to you? Please follow me for the introductions of wheel repair machine from Taian Crystal.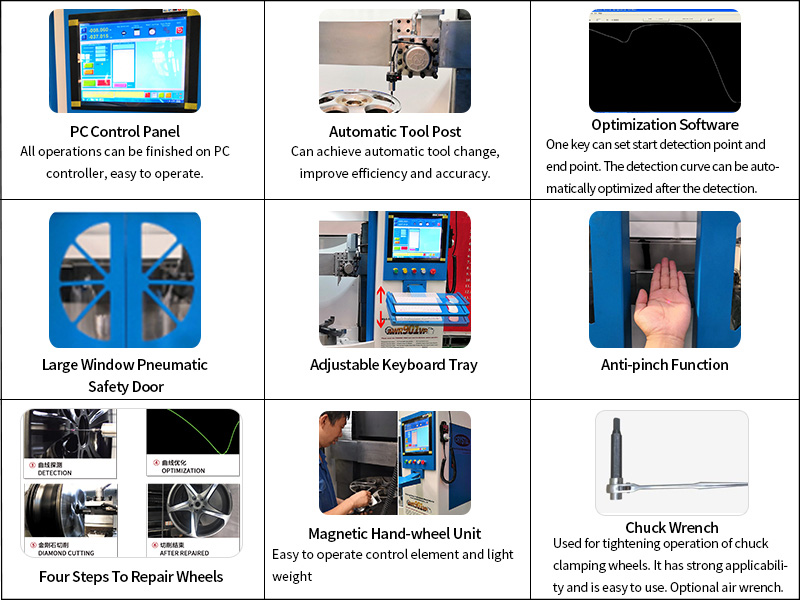 Combining with above pictures to explain some of the most main humanized design about wheel repair lathe:
1. Our latest developed vertical wheel repair lathe AWR901VP adopts 17'' multi-touch industrial panel, which is easy to operate and learn. Zero-experienced personnel can master skilled operation within hours of training; remote assistance with WIFI can solve customers' problems instantly.
2. Automatic tool post. It can realize automatic tools change without human resource, high efficiency; high repeatability and high precision, improved repair accuracy and no wire twisting problem.
3. Optimization software: The detection curve can be automatically optimized after detection. The whole process requires only simple four-step operation: open the program that needs optimization → select the point for optimization → optimize → store the data and then cut to achieve mirror or rainbow finish effect.
4. Pneumatic safety door: The safety door adopts large window design, which is convenient for direct observation of the wheel cutting situation. One-button setting opens or closes safety door, and the switch is quick and convenient. When the machine is working, the safety door is closed to ensure the safety of operators.
5. Anti-pinch function of the safety door: When detected of a person, the safety door will not be automatically closed, which improves the safety of machine and protect the user.
6. Magnetic Hand-wheel Unit: Magnetic design, can hung to anywhere in the machine shell according to the individual operating height. It's easy to operate in a close range, making the feed movement of two-axis more intuitive.
7. The keyboard tray can be adjusted up and down to support the wireless mouse, and it can be rotated to provide convenient position.
Machine height is also one of the humanizations of our alloy wheel repair lathe. If the machine is too high or too low, the operator will be in a bad operating position. Therefore, the operator can choose the best operating position by adjusting the pad iron to adjust the height. And it is convenient to operate when clamping the wheel. And more intuitive to show processing of machine.
Based on the above, do you have a clear understanding of the humanized design of Taian Crystal Wheel Repair Machine? In addition to the above-mentioned humanized design, in fact, our wheel repair lathe has a lot of highlights not introduced here, if you are interested in our products, please contact us.